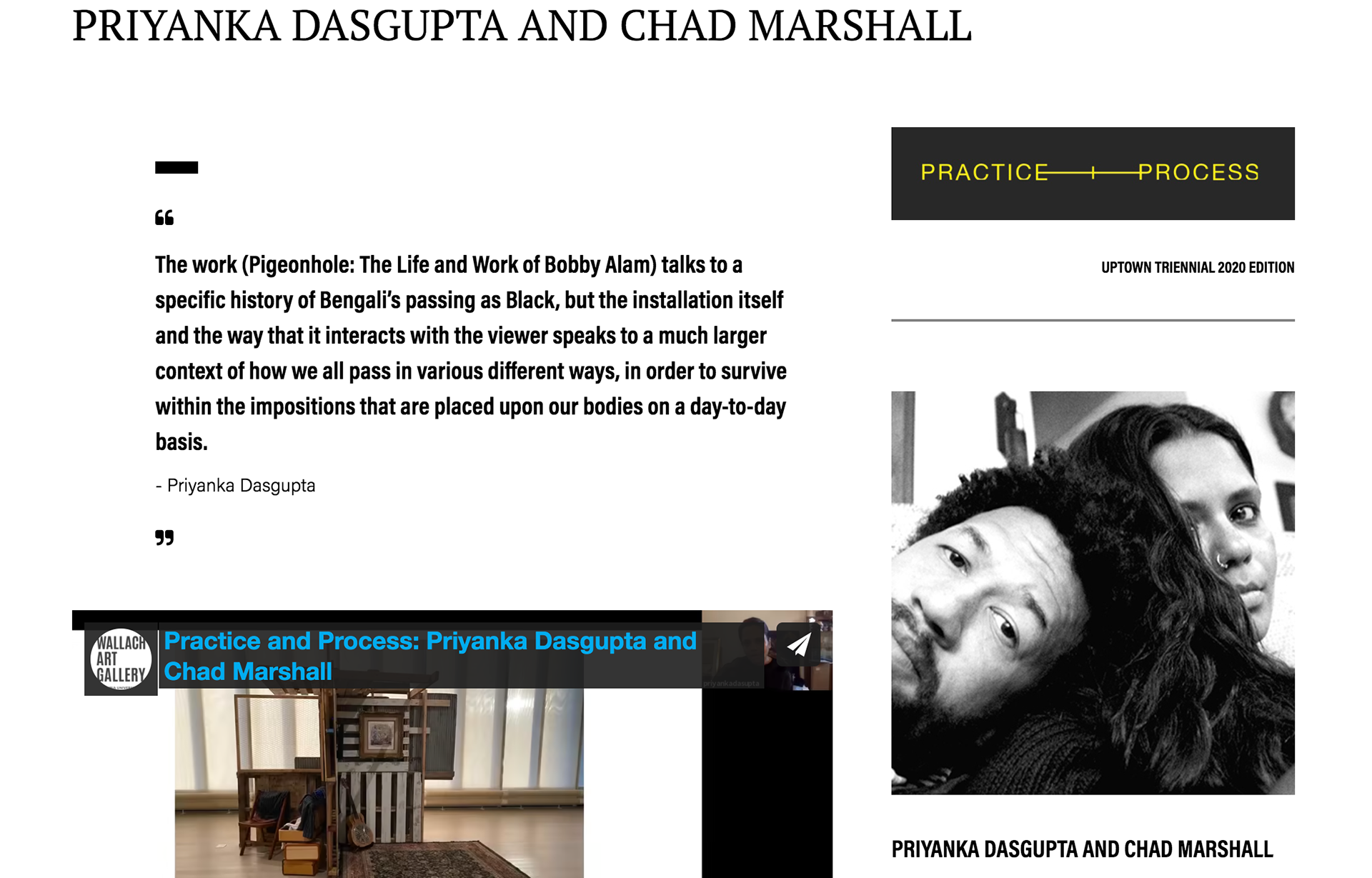 https://wallach.columbia.edu/practice-and-process-priyanka-dasgupta-and-chad-marshall

Practice and Process is conceived of as a series of interviews with artists, curators, and cultural leaders that offers insight into their practice. The interviews in the series are organized in editions that align with the exhibition projects at the Wallach Art Gallery.

In this edition of Practice and Process, a selection of artists featured in the 
Uptown Triennial 2020 
exhibition share insights about their work and reflect on the significance of the Harlem Renaissance.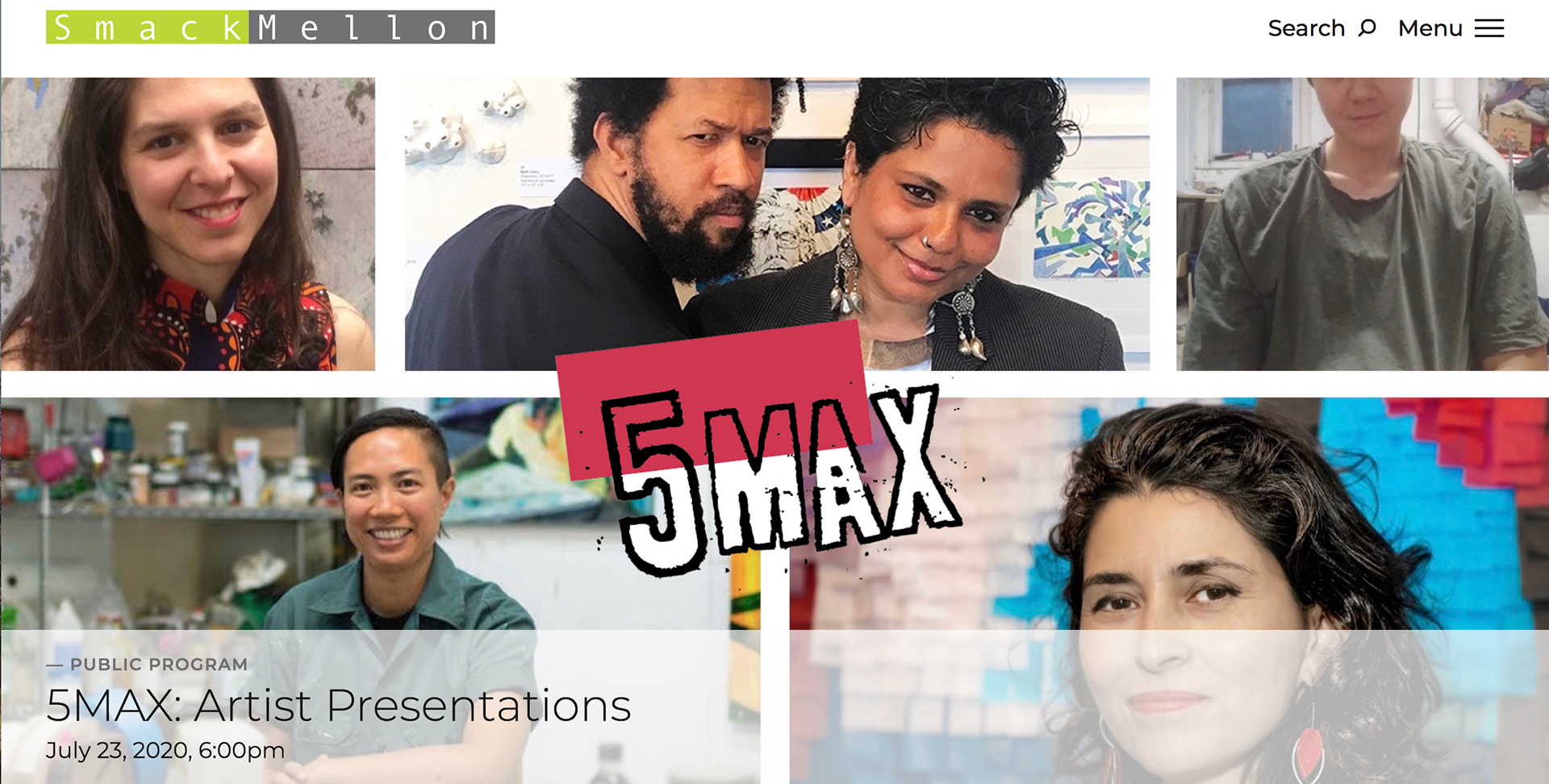 The 5MAX events consist of a two-part program, to take place on alternating weeks. First, in an open Zoom meeting, 5 presenting artists selected by Smack Mellon will each show their work for 5 minutes followed by 5 minutes of audience questions with each artist. Audience members then have the option to sign up for a chance to participate in a closed group meeting with one of the 5 presenting artists, to take place on the following week (Thursday, July 30 at 6:00PM EDT).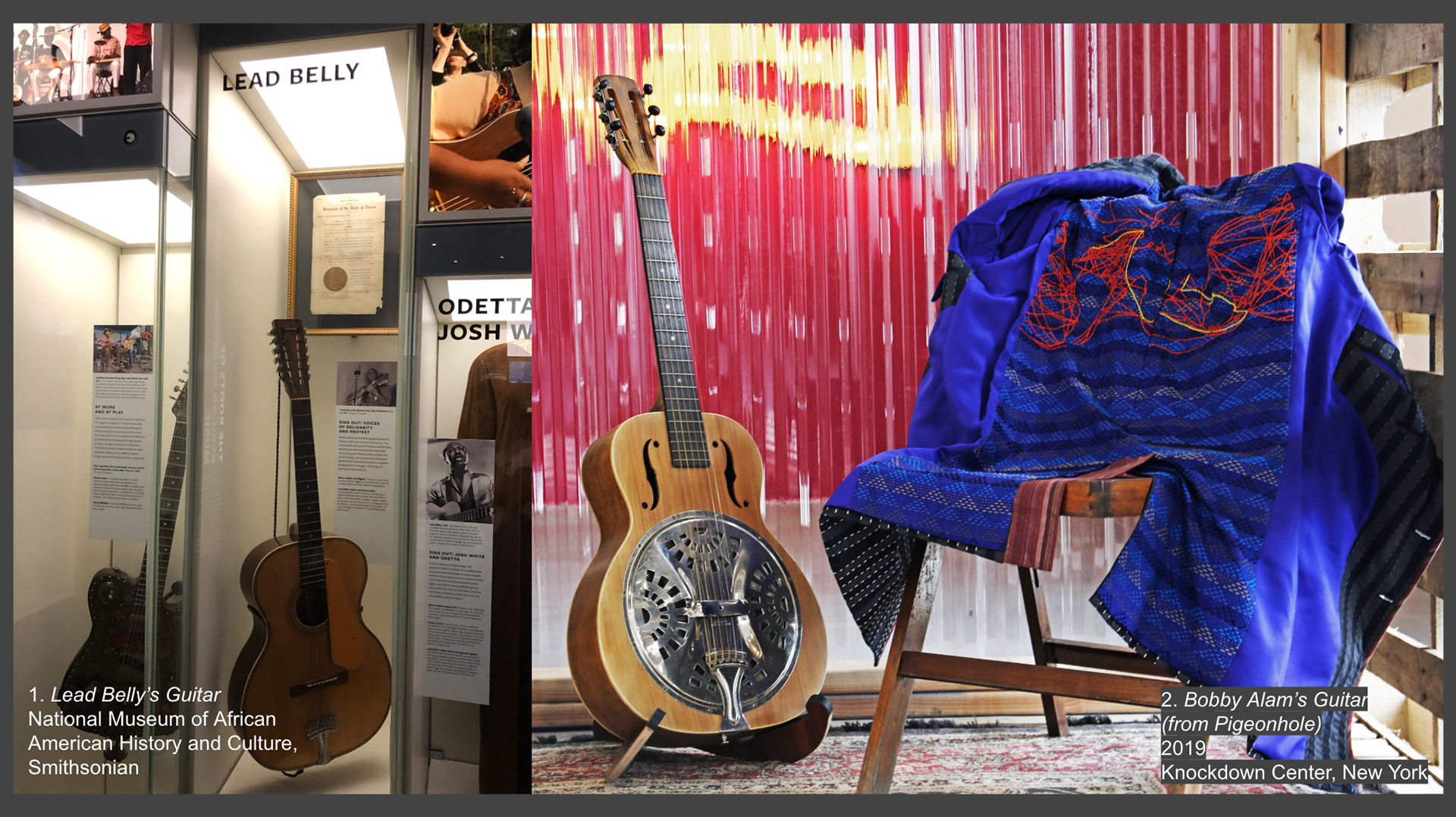 Priyanka Dasgupta & Chad Marshall are recipients of the Smithsonian Artist Research Fellowship (SARF) for 2019-2020, and are exited to begin their research into the parameters and politics of collecting, preservation and curation, there.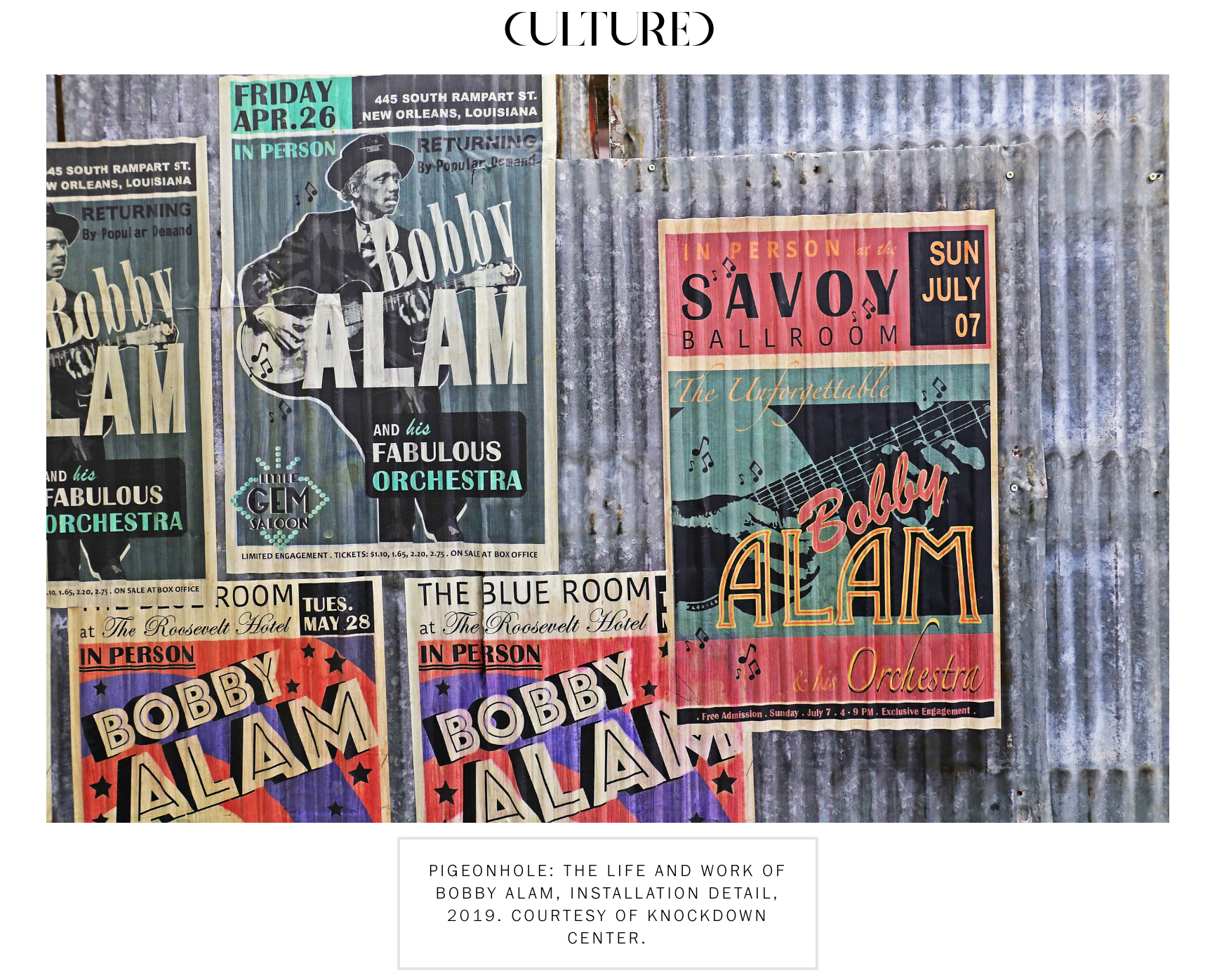 Pigeonhole: The Life and Work of Bobby Alam at Knockdown Center
Priyanka Dasgupta and Chad Marshall have transformed the 
Knockdown Center
 into an homage to the Bengali peddler and sailor Bobby Alam, who arrived in New York in 1918 and lived his life as a black jazz musician in New York and New Orleans. The only catch is that Alam is a fictional composite rather than a specific historical figure—an approach the artists chose in order to call attention to the fragmented ways in which so many narratives are passed down. Parsing out what it would have meant to be a Bengali immigrant passing as black jazz musician in early 20th century New York opens up endless questions of American history, privilege, survival and truth itself.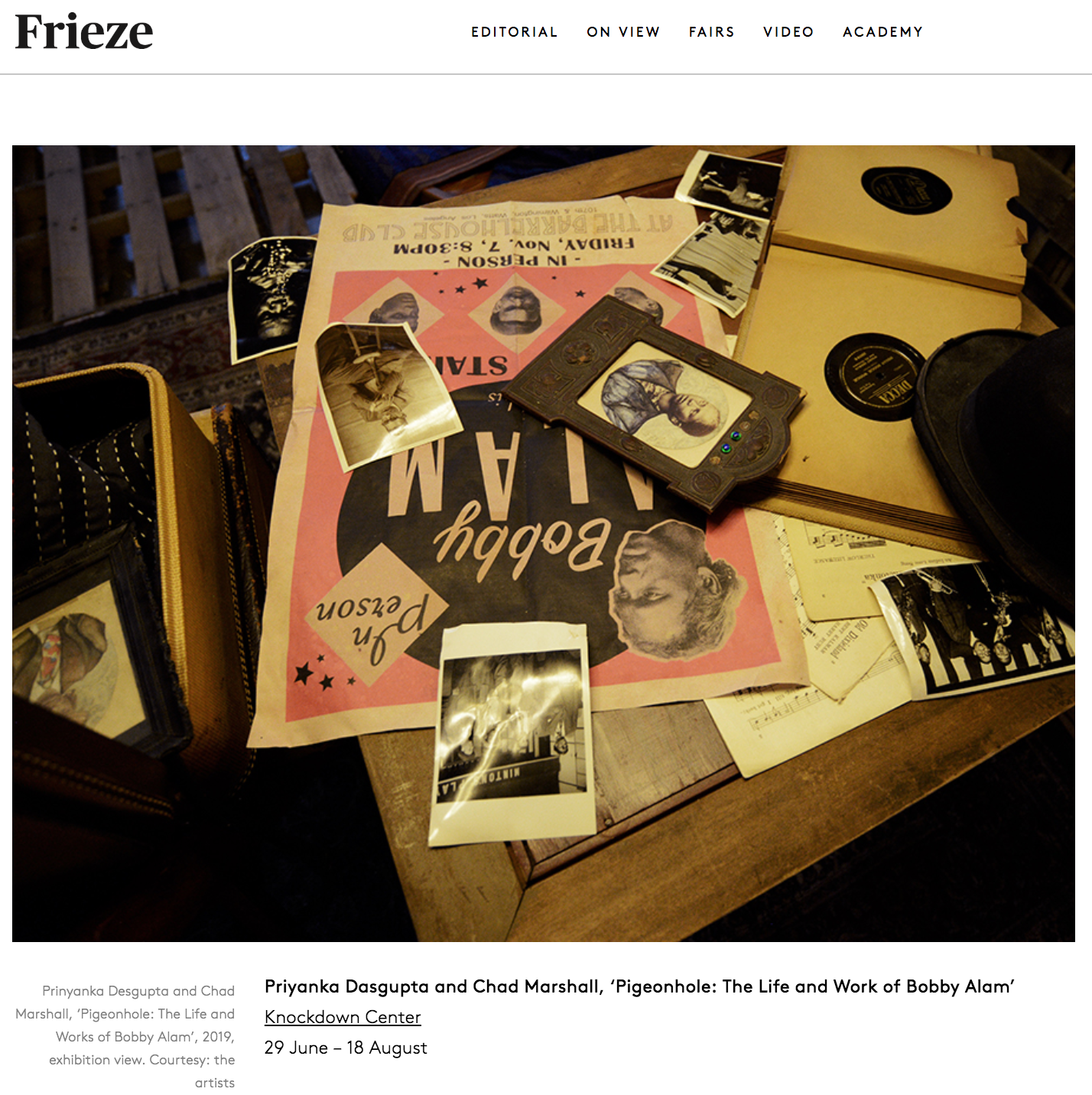 A hat, a bunch of records, a performance poster, a few photographs and some fine fabrics strewn across a chair in Dasgupta and Marshall's installation provide the backdrop for a video assembled from rehearsals and performances by jazz musician Bahauddin 'Bobby' Alam. For 'Pigeonhole', the artists have gathered these artefacts not only to celebrate a story that might otherwise have not been told, but also to raise questions about contemporary American life: Alam arrived in the US in 1918 as a refugee; he assimilated by swapping out one identity (his Bengali heritage) for another (a black jazz musician playing in Harlem and New Orleans). It's a narrative that, brought into the present day, suggests another way of thinking about race and personal history, of refusing to be 'pigeonholed' in a singular identity where several may exist.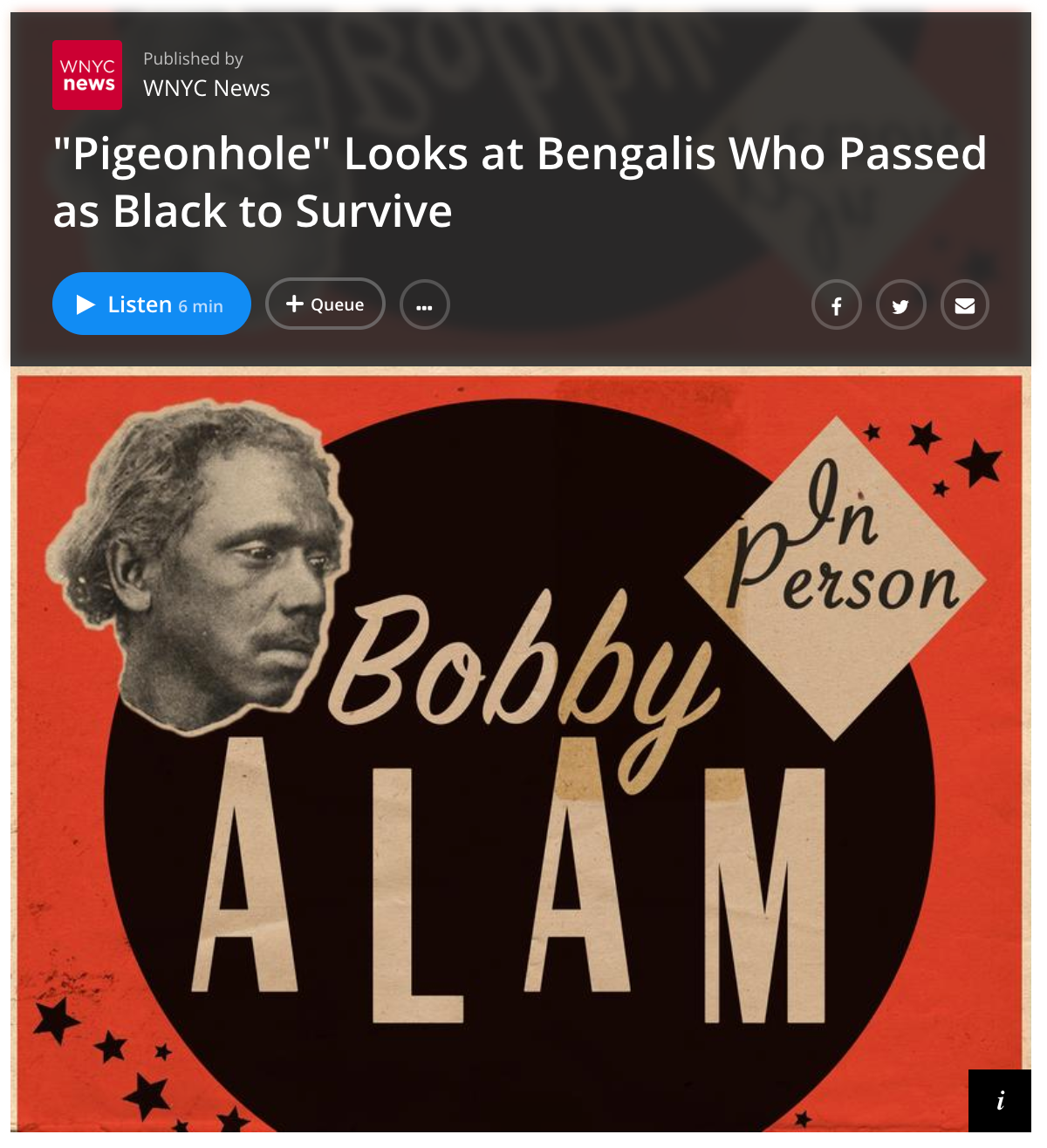 A new exhibit at the 
Knockdown Center
 in Queens explores the little-known history of Bengali people who migrated from South Asia in the early 20th century and passed as black Americans. 
Pigeonhole: The Life and Work of Bobby Alam
 paints a multidisciplinary portrait of a fictional Bengali jazz musician created as a composite character by artistic collaborators and husband-and-wife team Priyanka Dasgupta and Chad Marshall.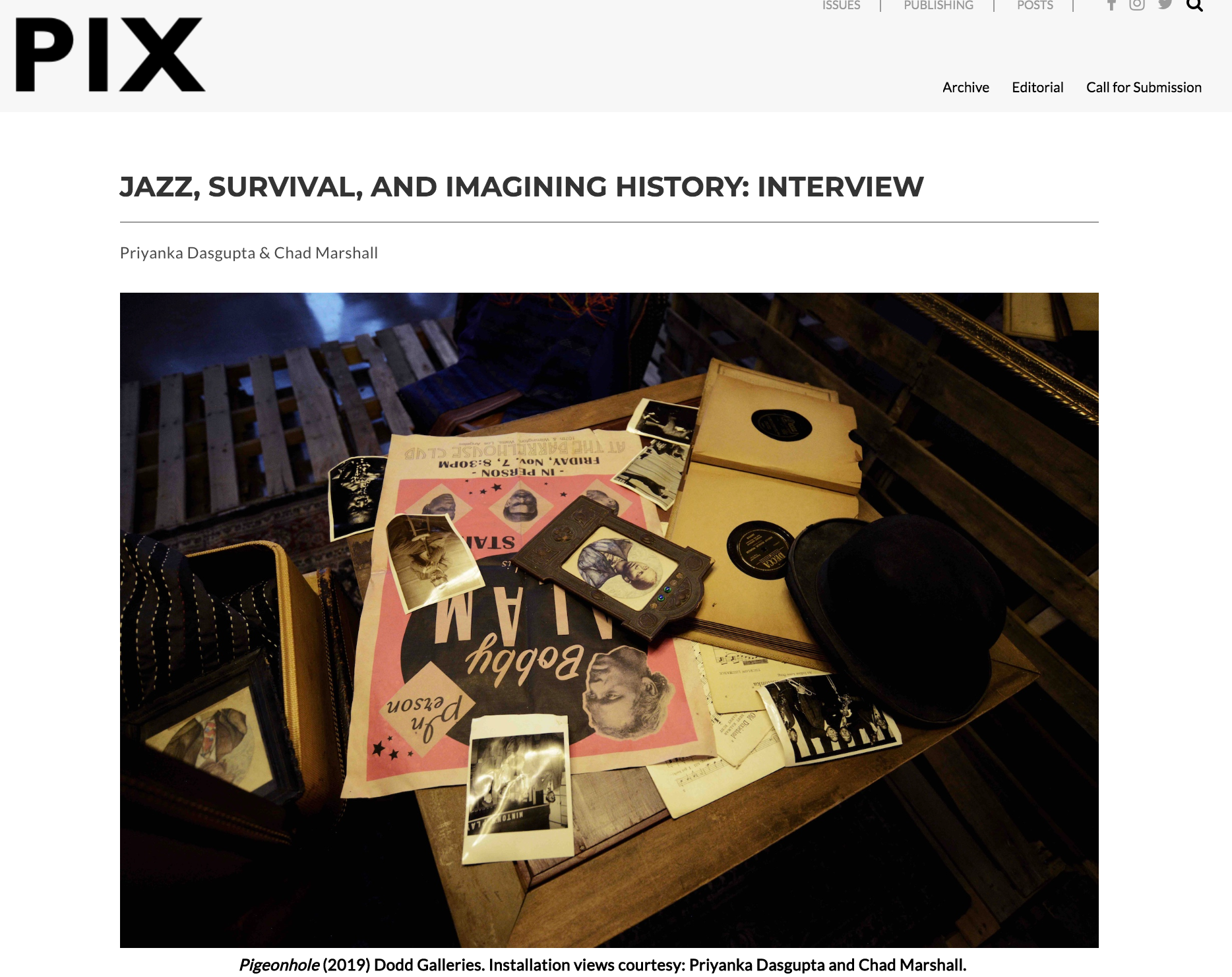 When histories are imagined, are they simultaneously fictionalized? Or is fiction the voice of colonial power, which often fashions national realities to match its vision? As historian Benedict Anderson (1935-2015) suggests in Imagined Communities (pub.1983), nations themselves were constructed from the proliferation of the vernacular, written word that in turn formed solidarities around nationalistic and uniform discourse(s). How, then, can alternative forms of remembering or new archival modes establish history outside the national and textual, particularly for those who often slip through its cracks?
These are some of the propositions raised and challenged by artists Priyanka Dasgupta and Chad Marshall in Pigeonhole (2019), a multi-media installation project that stitches together cultural trajectories of migration and the politics of memory-making through the fascinating figure of Bobby Alam. In imagining the fictional Alam as a Bengali peddler passing as a black jazz musician in the early-20th-century United States, Dasgupta and Marshall utilize the form of a museum retrospective to coalesce truth and myth with playful and powerful effect. By presenting a personal—albeit contrived—history through this lens, Dasgupta and Marshall deconstruct the ways in which prevailing power structures deny authenticity or narrative agency, and also suggest alternative means by which identities can be shaped. In a moment when conceptions of citizenship are being dramatically redrawn along nationalist lines, Pigeonhole's microhistory offers possibilities for storytelling outside traditional frameworks.
Pigeonhole, first exhibited at the Dodd Galleries in Georgia earlier this year, will be 
on view
 at New York City's Knockdown Center between June 29th – August 18th, 2019. PIX spoke to Dasgupta and Marshall via email.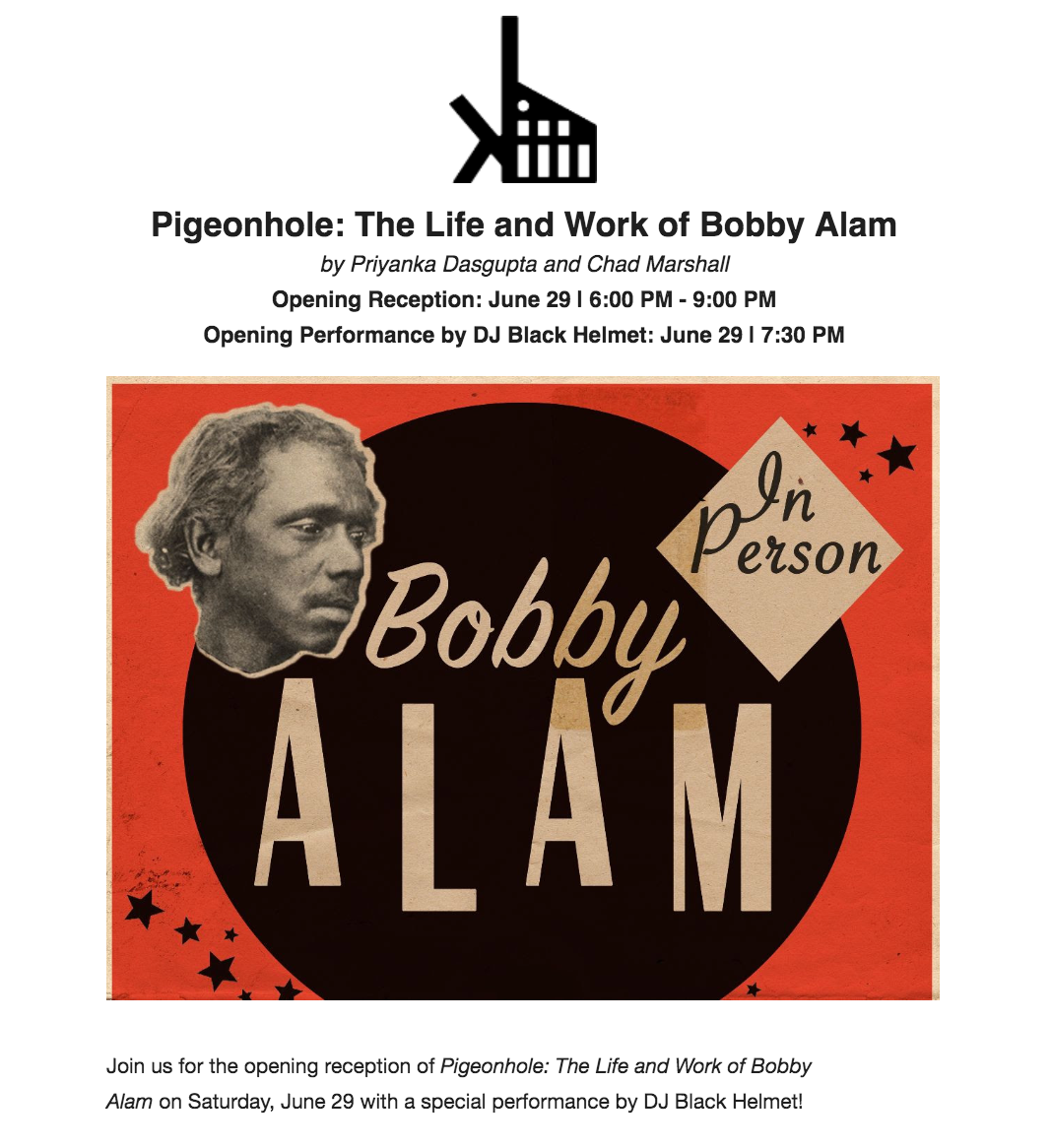 Pigeonhole: The Life and Work of Bobby Alam is a multidisciplinary portrait of Bahauddin "Bobby" Alam, a Bengali peddler and sailor who arrived in the United States in 1918 and lived as a Black jazz musician in New York and New Orleans. The exhibition memorializes Alam's career and explores his personal navigation of an especially precarious period in American history, prompting a reflection on the complexities of racial passing as a means for marginalized people to circumvent violence.





The installation resembles spaces like the stage and the dressing room where Alam would have spent his time, surrounded by old handbills and concert posters, musical compositions, video documentation of his rehearsals, and other remnants of his life and career as a musician. Clues within each of these objects reveal, upon close reading, the staged and dual nature of Alam's identity, which subtly trespasses the lines between reality and fiction. 



Over the course of the exhibition, contemporary musicians inspired by Alam will take the stage and perform live, enabling the past evoked by the installation to live once again. 

Learn more here.
RSVP to the opening reception here.
Exhibition On View: June 29 - August 19, 2019


New Gallery Hours




Thu-Fri 4-8pm / Sat-Sun 2-7pm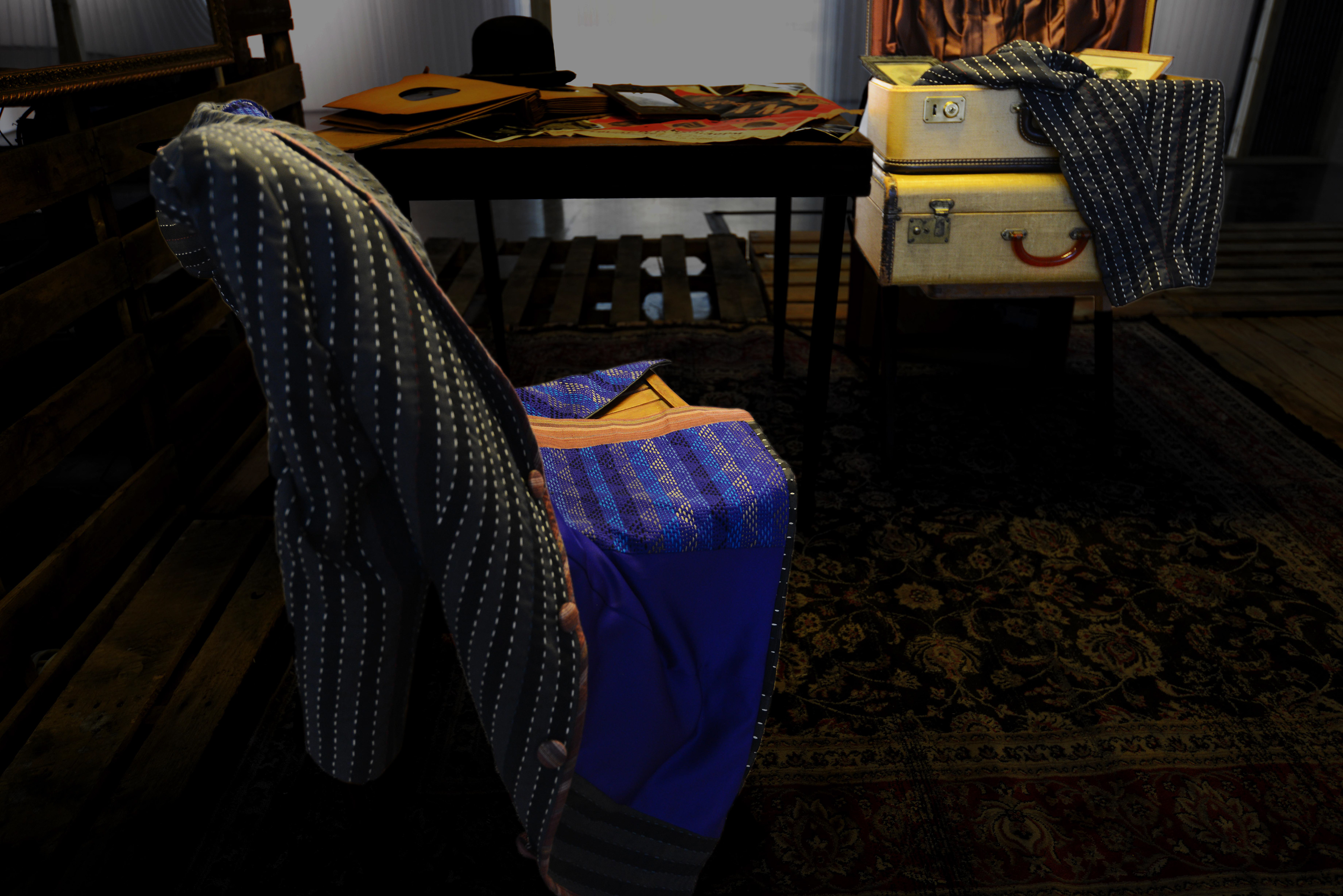 Inspired by the lost histories of Bengali sailors who, passing as Black in the early twentieth century, settled into communities of color in the wake of anti-Asian immigration laws in the United States, PIGEONHOLE is a multidisciplinary portrait of Bahauddin (Bobby) Alam, a Bengali peddler and lascar who migrated to the United States in the early twentieth century and lived as a Black jazz musician in order to circumvent the Asiatic Barred Zone Act of 1917.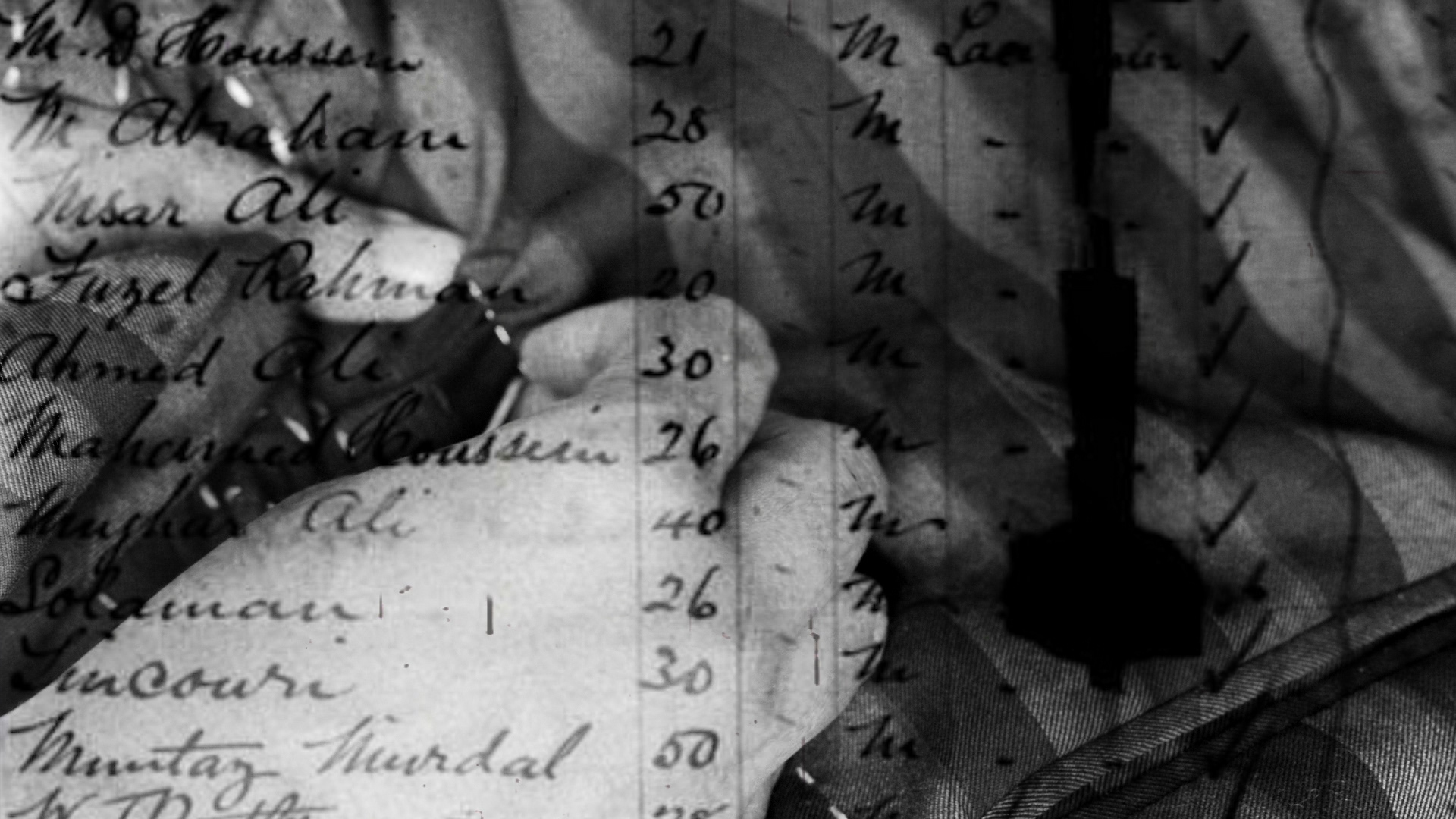 PIGEONHOLE, 2019, Site-specific installation, Dodd Galleries, Lamar Dodd School of Art, University of Georgia, February 1 - 22, 2019.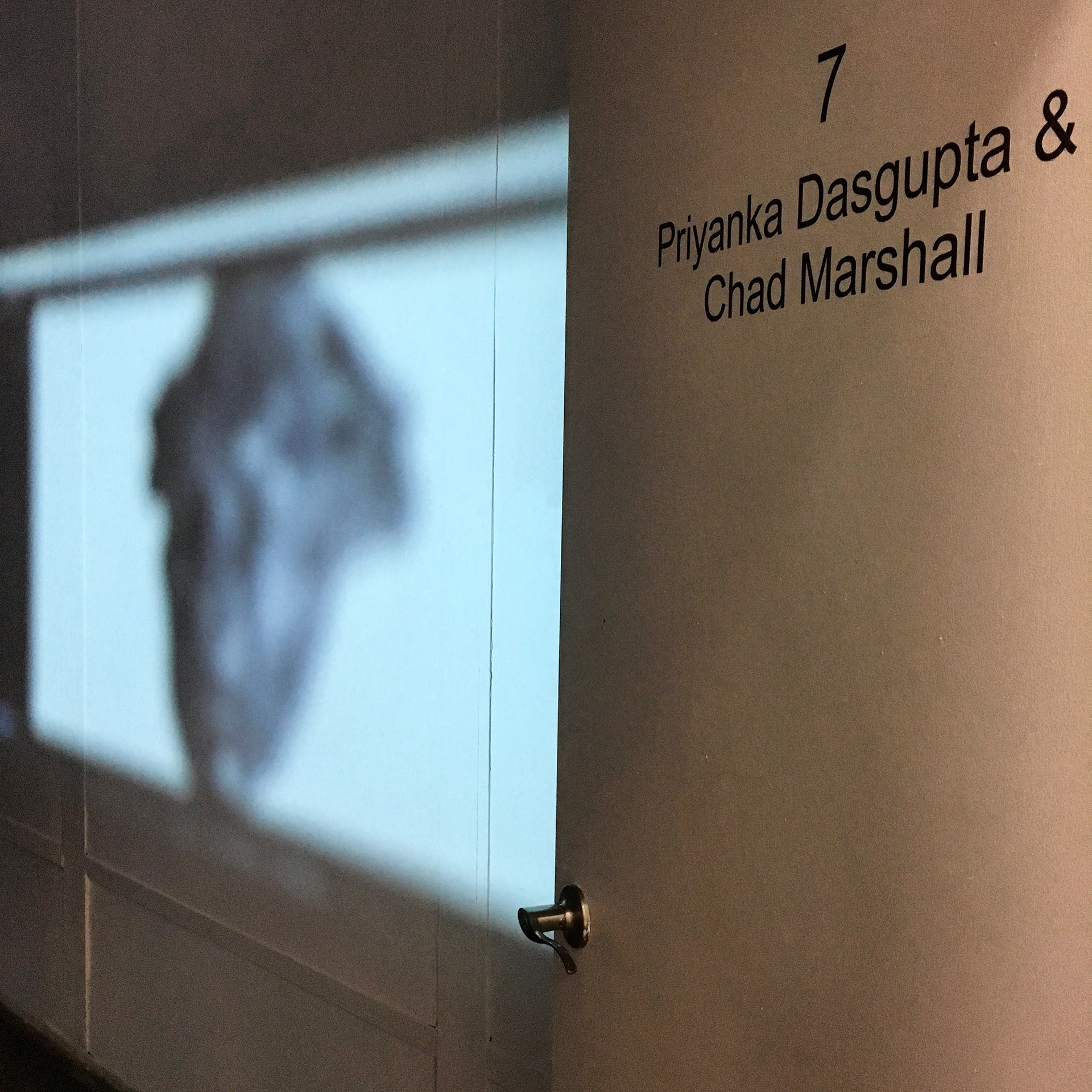 Open Studios Fall 2018. At 
Smack Mellon Studio Program
. With Beatrice Glow Felicita Maynard, Rebecca Shapass, Jia Sung and Ronny Quevedo. 
Saturday 29, 12-8PM & Sunday 30, 12-6PM. Located at 92 Plymouth Street, Brooklyn 11201.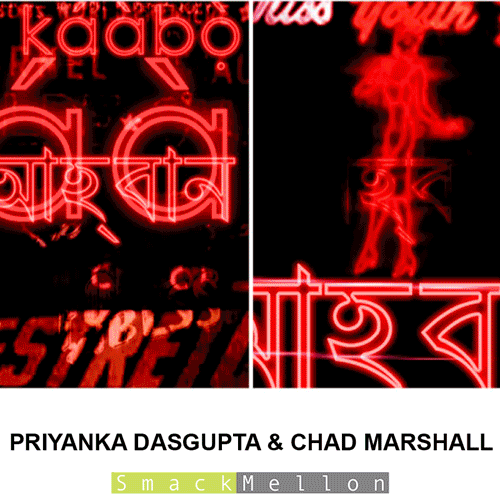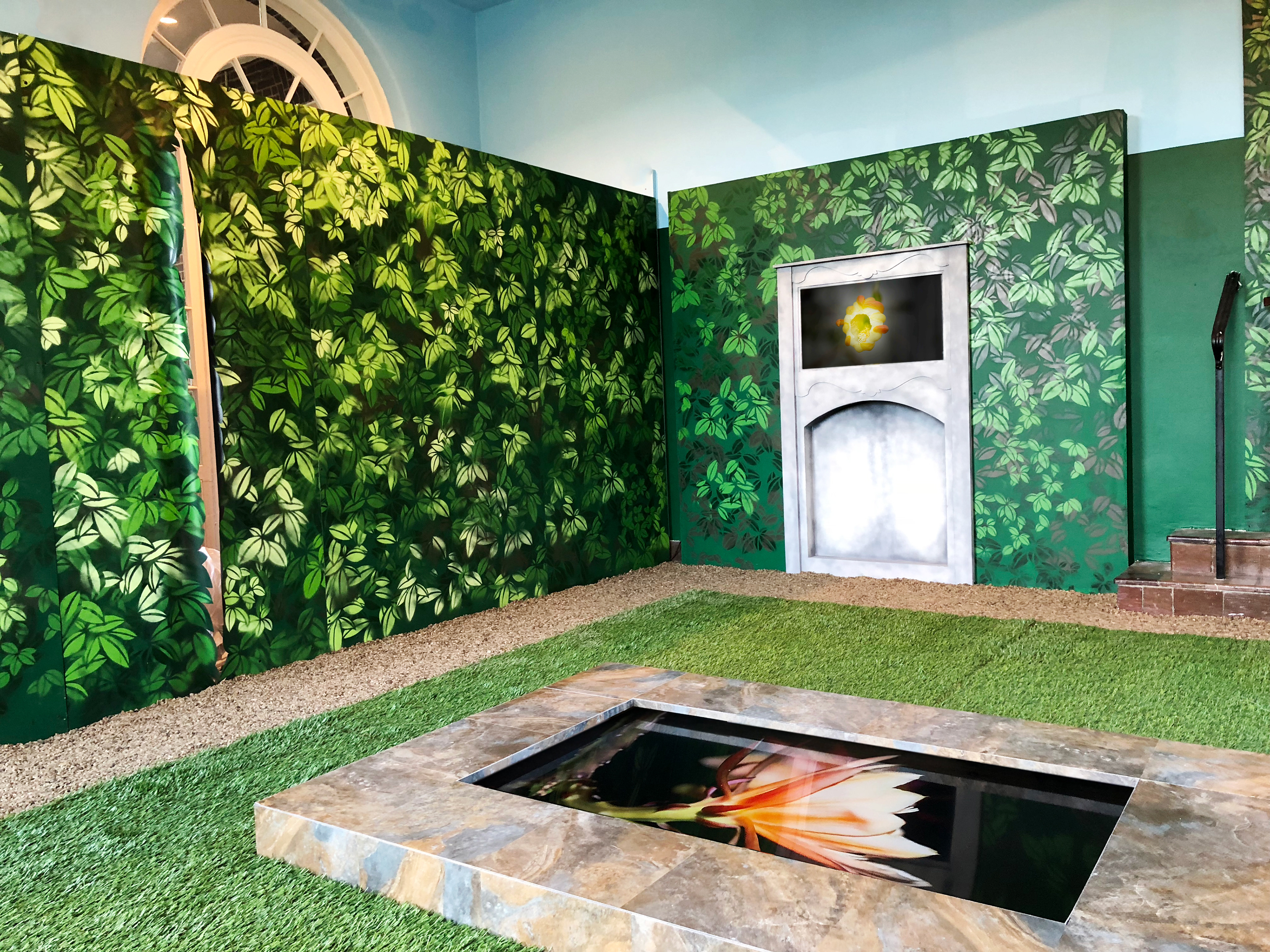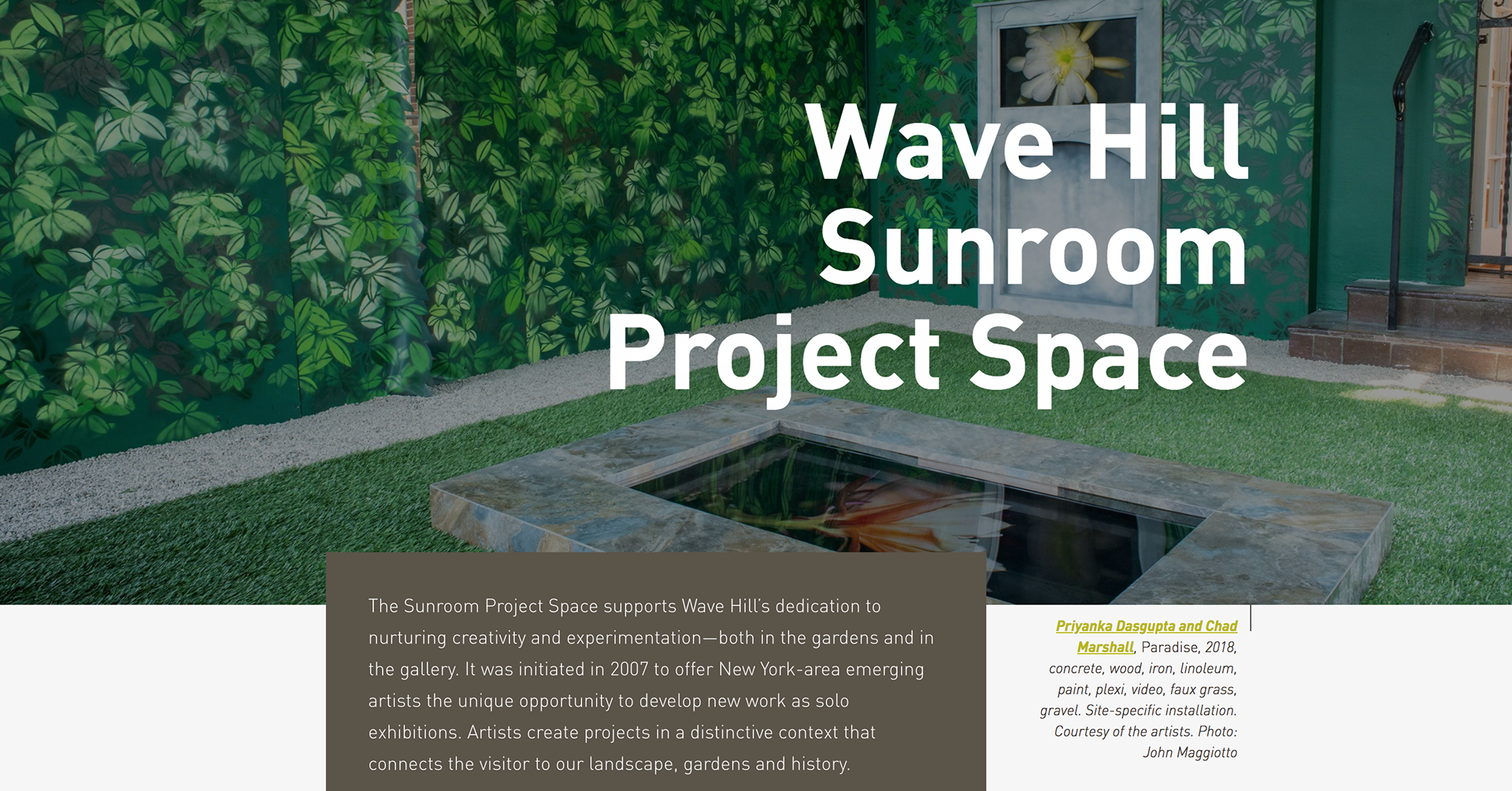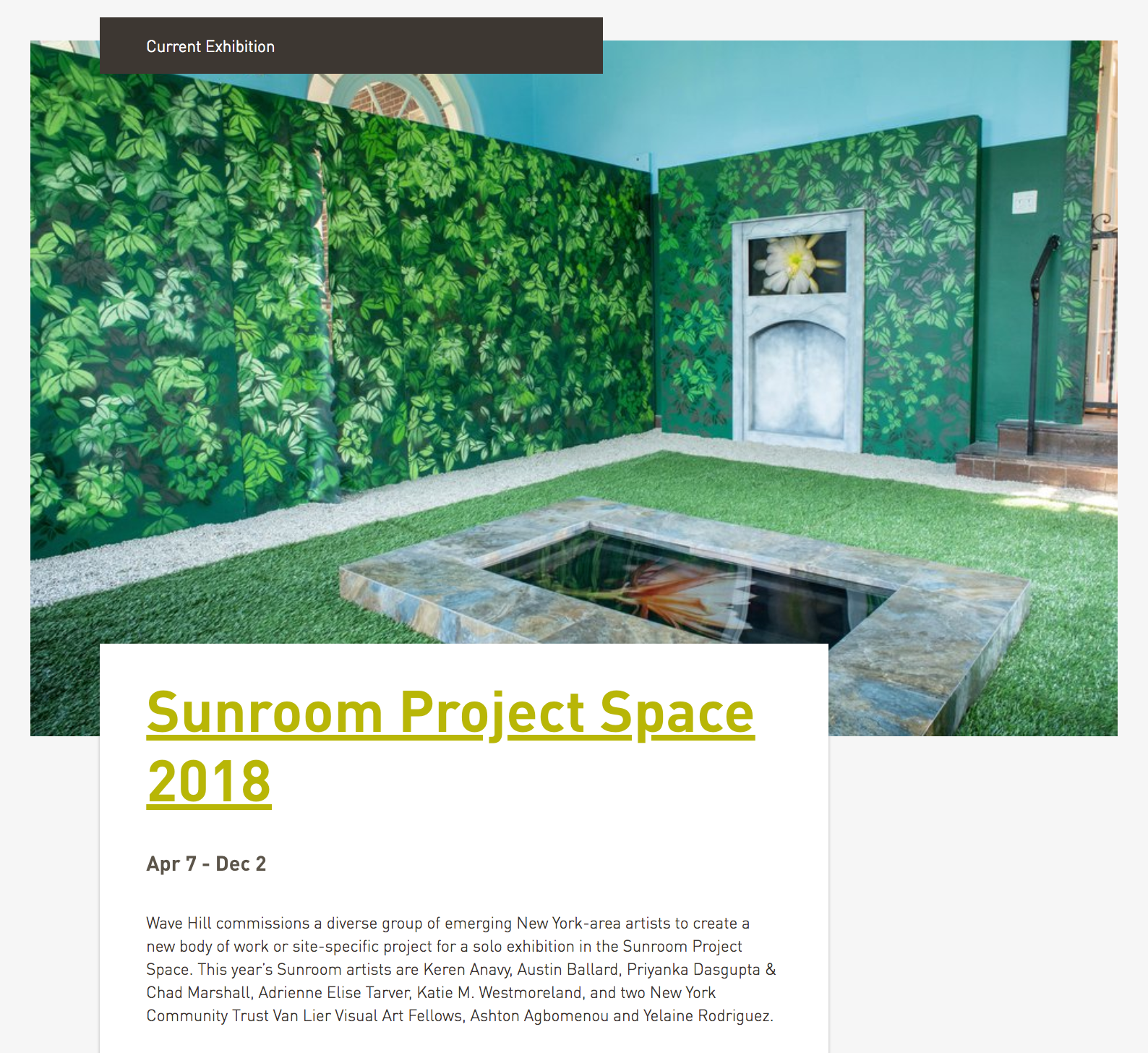 Priyanka Dasgupta & Chad Marshall, "
Paradise
," Site specific installation, curated by Eileen Jeng Lynch, on view at Wave Hill's
Sunroom Project Space
until August 26, 2018. Participatory event and discussion on Saturday, July 14, at 2pm.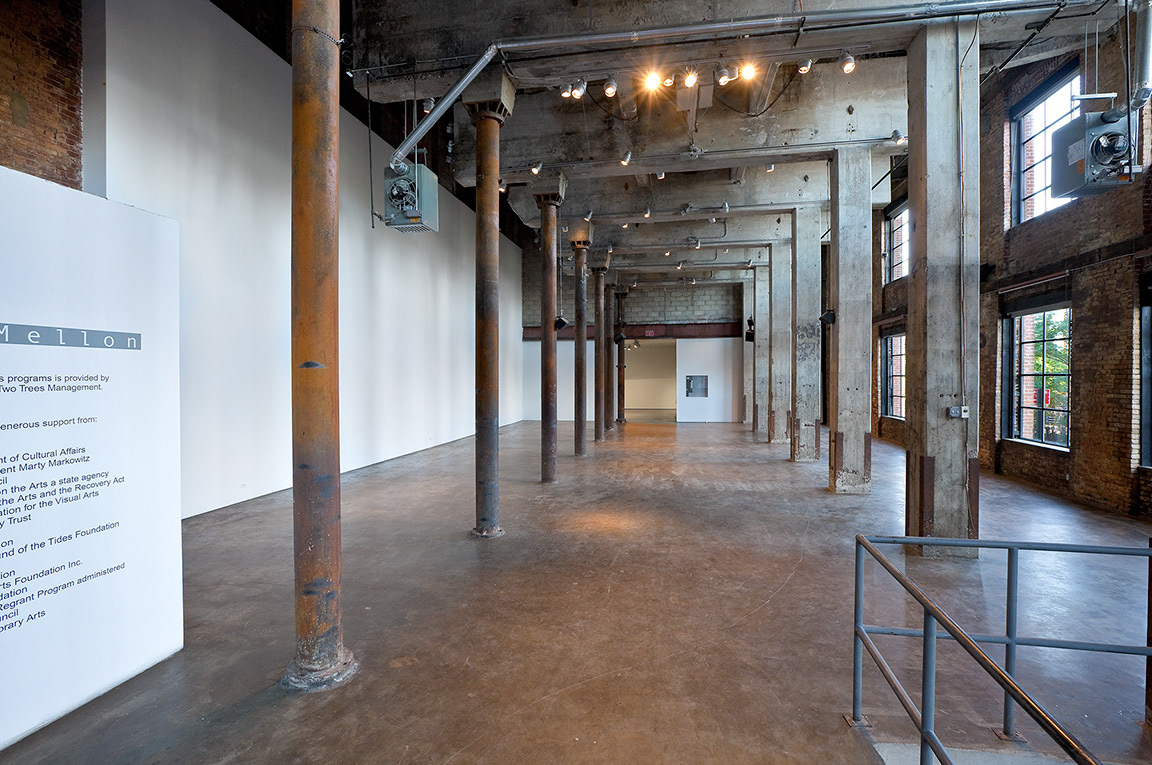 Priyanka Dasgupta & Chad Marshall will be Artists in Residence at Smack Mellon's Artist Studio Program in 2018-19.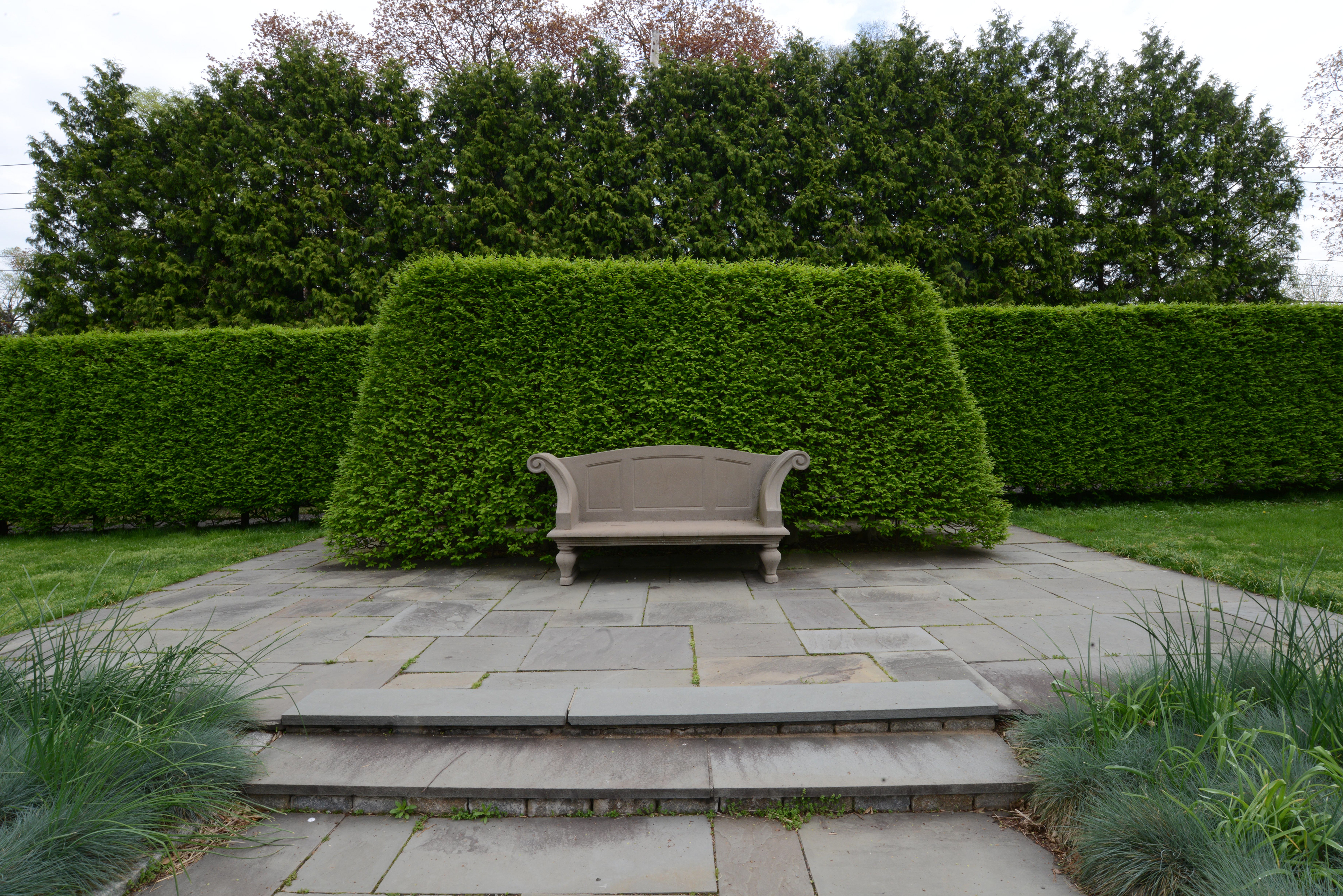 Priyanka Dasgupta & Chad Marshall are currently developing work for Wave Hill's Sunroom Project Space. July 2018.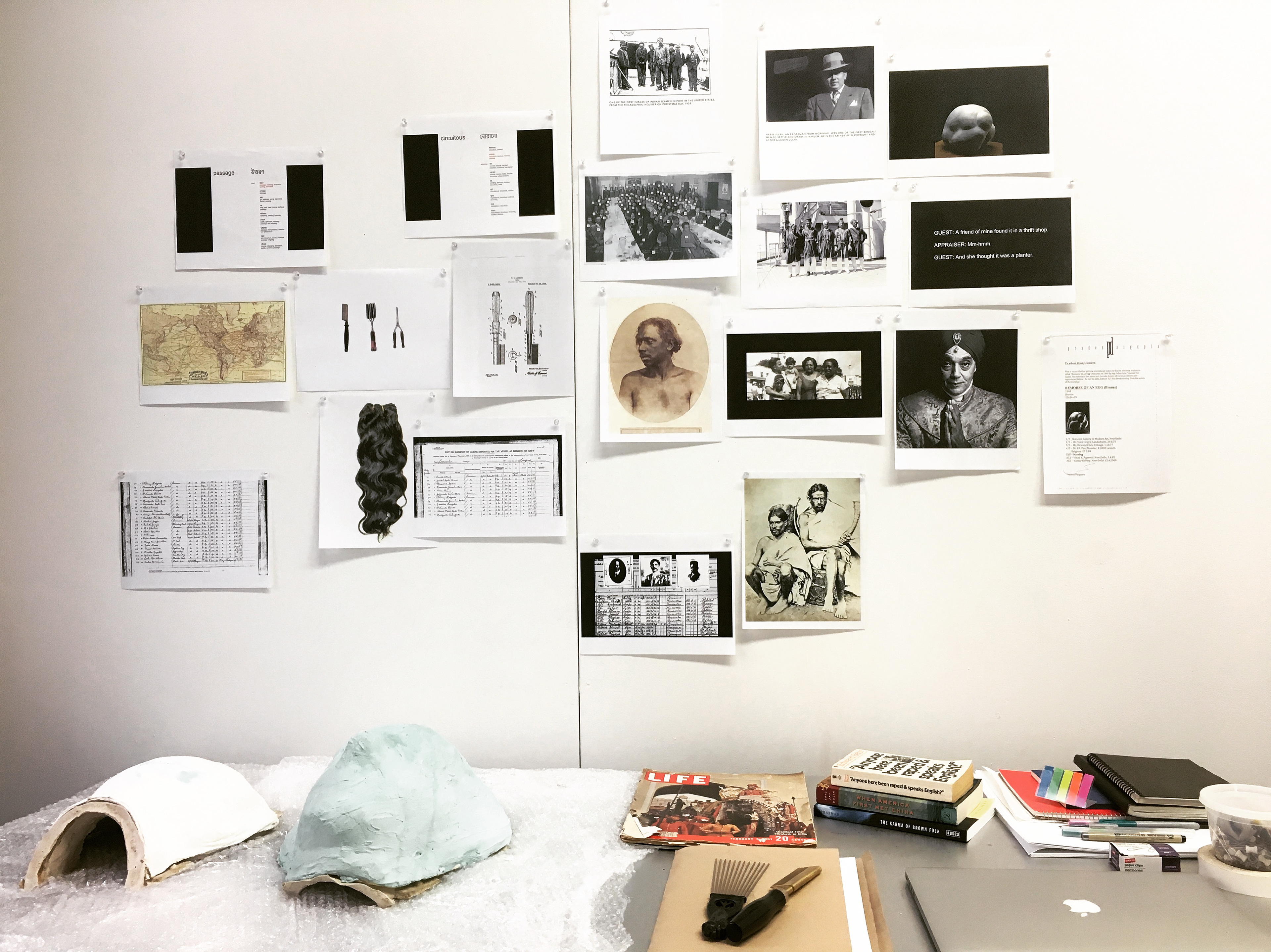 Priyanka Dasgupta & Chad Marshall are current Artists in Residence at Abrons Arts Center's AIRspace Program. 2018.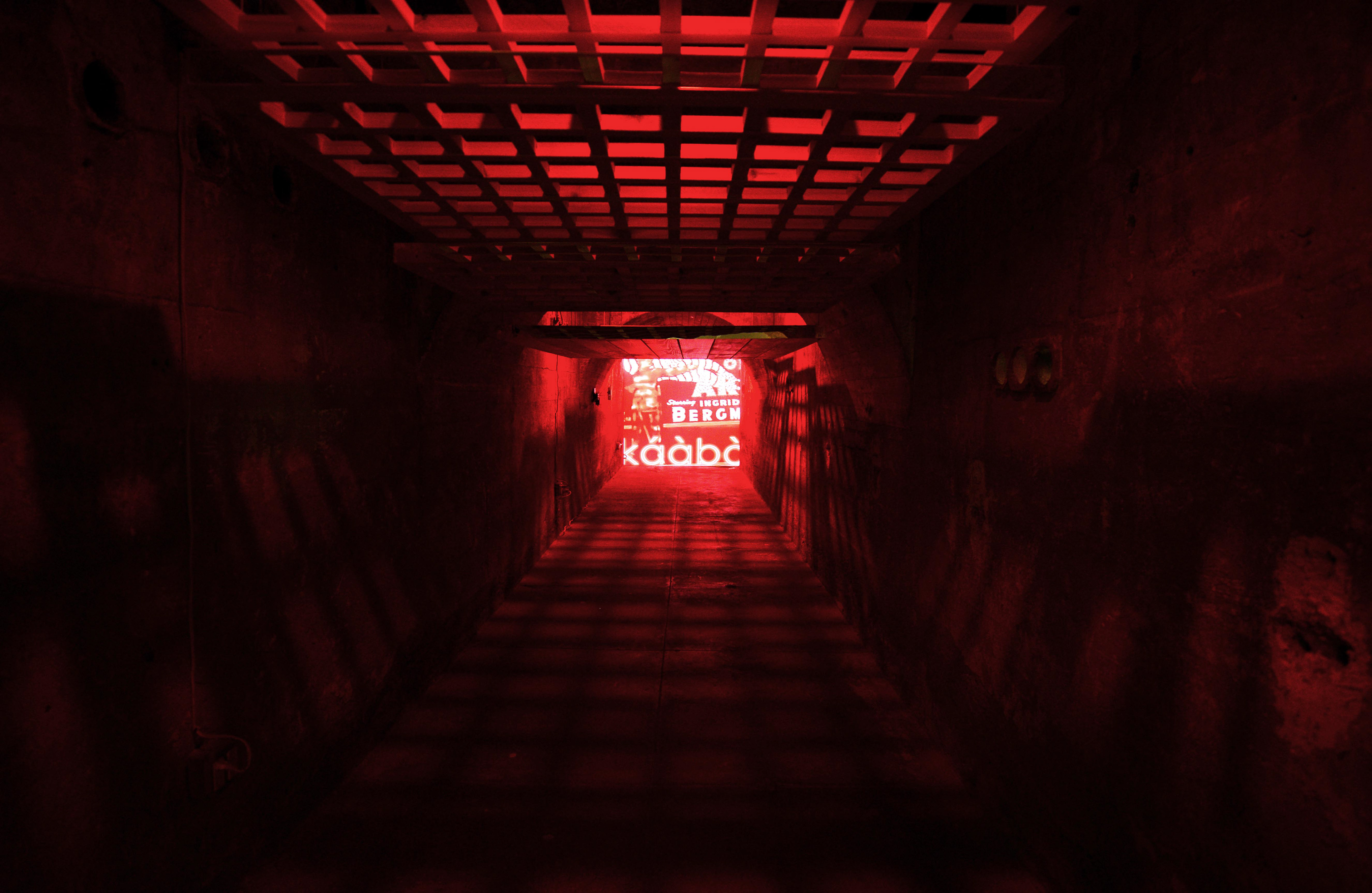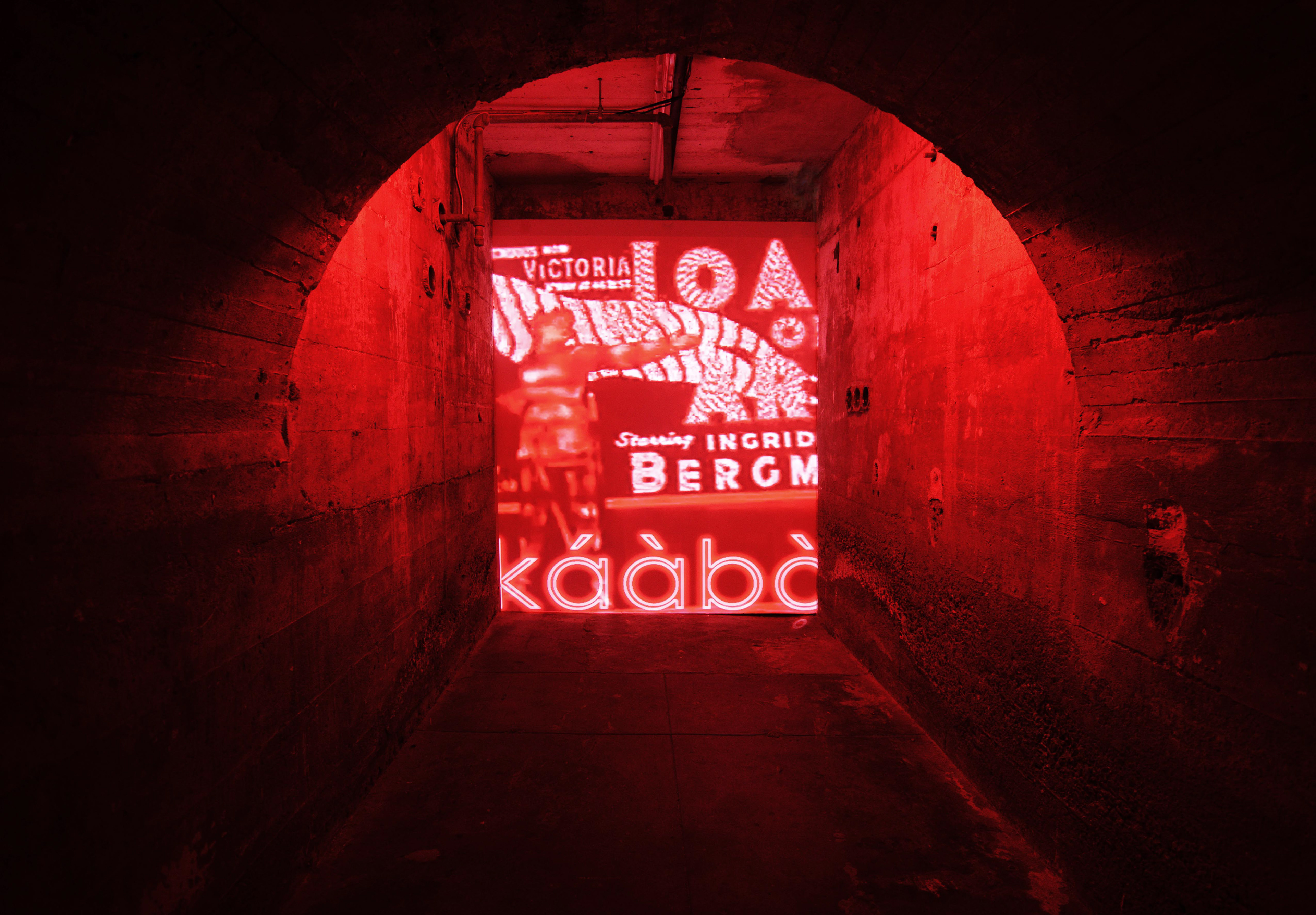 "Passage," by Priyanka Dasgupta & Chad Marshall, is included in the exhibition Another Echo, on view January 29 - April 2, 2018, presented through In Practice, SculptureCenter's open call commissioning program for emerging artists. In Practice provides new ways to discover the most innovative artwork, foster experimentation, and give participants the opportunity to develop and present new work.
LINK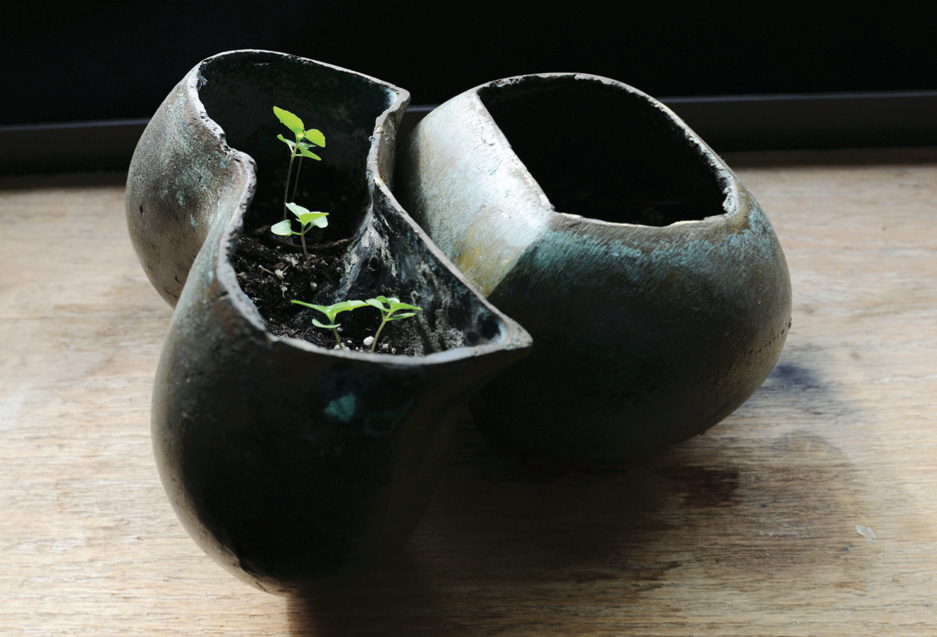 "AnOther," is included in "Beyond Transnationalism: The Legacies of Post Independent Art from South Asia". The exhibition is curated by Dr. Arshiya Lokhandwala and being held at AIFACS Gallery, 1 Rafi Marg, New Delhi - 110001, from February 10 - 21, 2018. The opening reception is on February 10, from 4 - 7pm.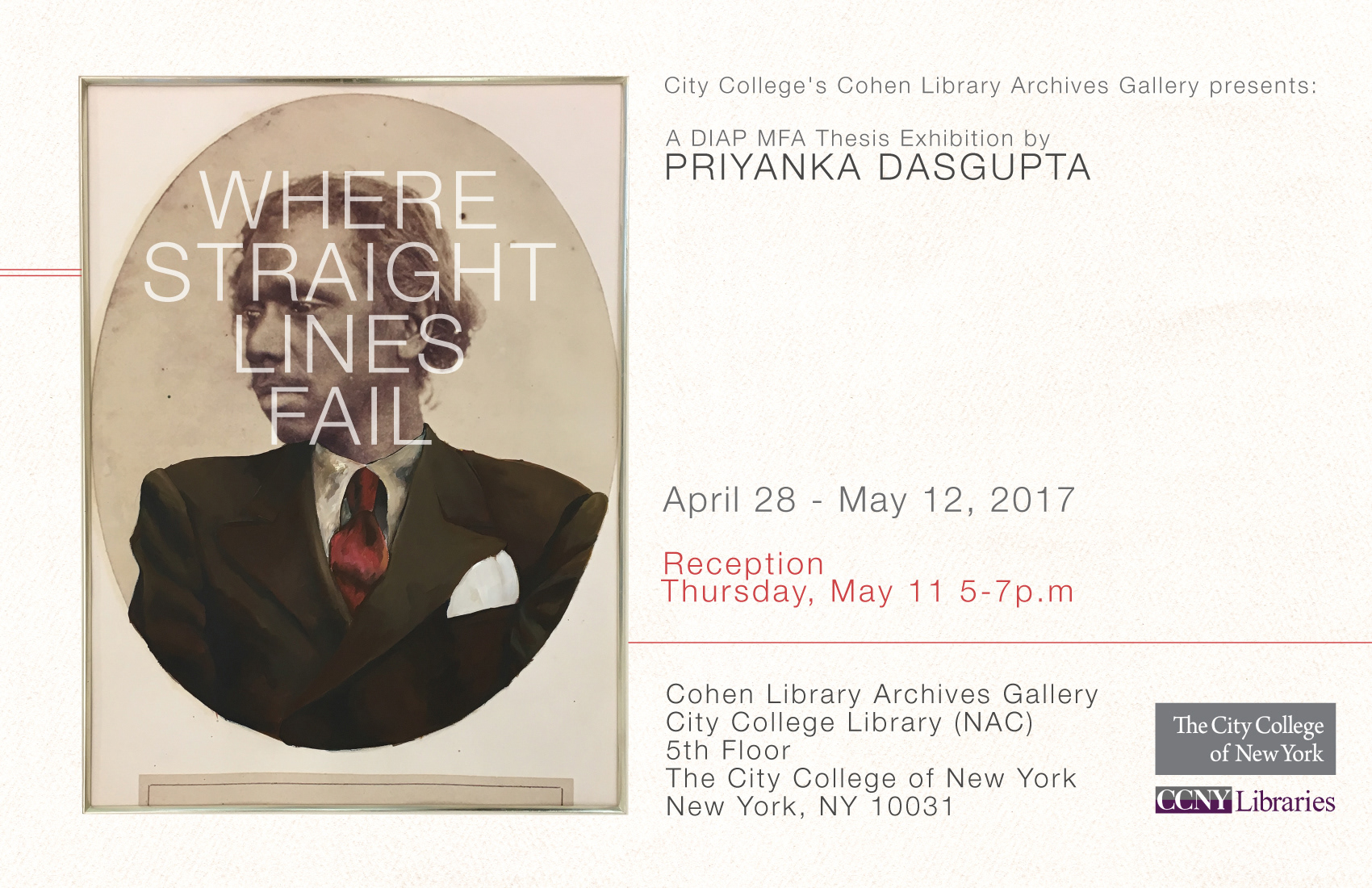 Where Straight Lines Fail. A DIAP MFA Thesis Exhibition by Priyanka Dasgupta. At the City College Cohen Library, Cohen Archives Gallery, City College, New York, NY 10031. April 28-May12, 2017. 
Reception on Thursday, May 11, 5-7pm.
Join us at the Abrons Arts Center for the Opening Reception, on April 6, 2017, from 6-8pm. For more info: http://www.abronsartscenter.org/on-view/exhibits/archival-alchemy-south-asian-womens-creative-collective-swacc/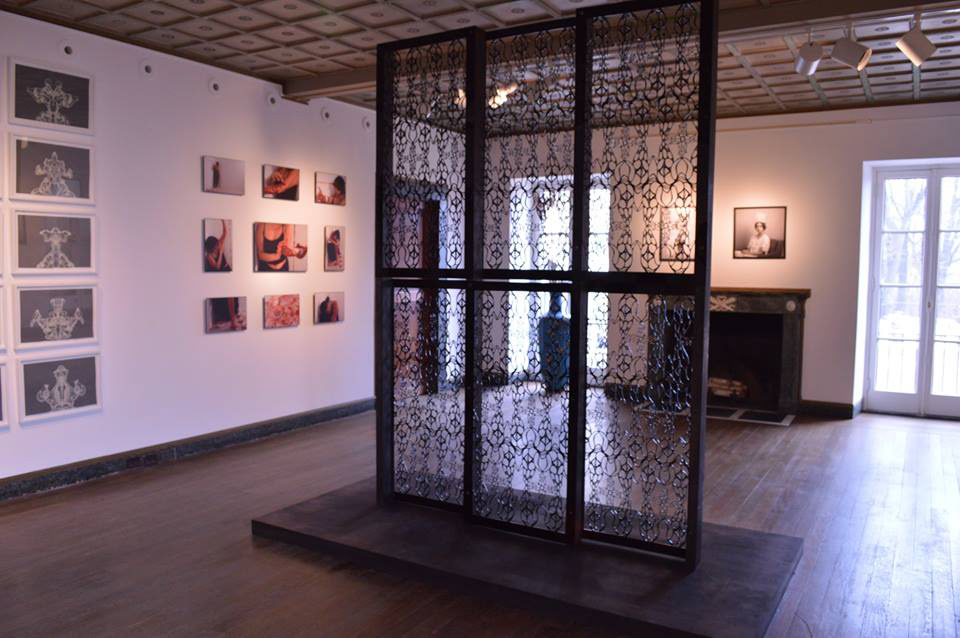 ORNATE / ACTIVATE, at the Villa Terrace Decorate Arts Museum, Milwaukee. February 16, 2017 - May 14, 2017
Ornate/Activate  examines the use of decorative arts and motifs, architectural elements, scripts, traditional materials, and other forms of pattern-making by artists of South Asian origin to create meaningful and critical content. The exhibition, organized by the South Asian Women's Creative Collective (SAWCC) and curated by Alexander Campos, addresses themes such as inequality stemming from the global economy, loss of language and culture, gender violence, discrimination, segregation, and issues of equality and identity. 

Exhibiting Artists:
Nida Abidi, Fariba Alam, Kamal Badhey, Shelly Bahl, Marcy Chevali, Priyanka Dasgupta, Roya Farassat, Asha Ganpat, Parisa Ghaderi, Zainab Hussain, Monica Jahan Bose, Vandana Jain, Umber Majeed, Radhika Mathews, Indrani Nayar-Gall, Nirmal Raja, Sausan Saulat, Suran Song, Udita Upadhyaya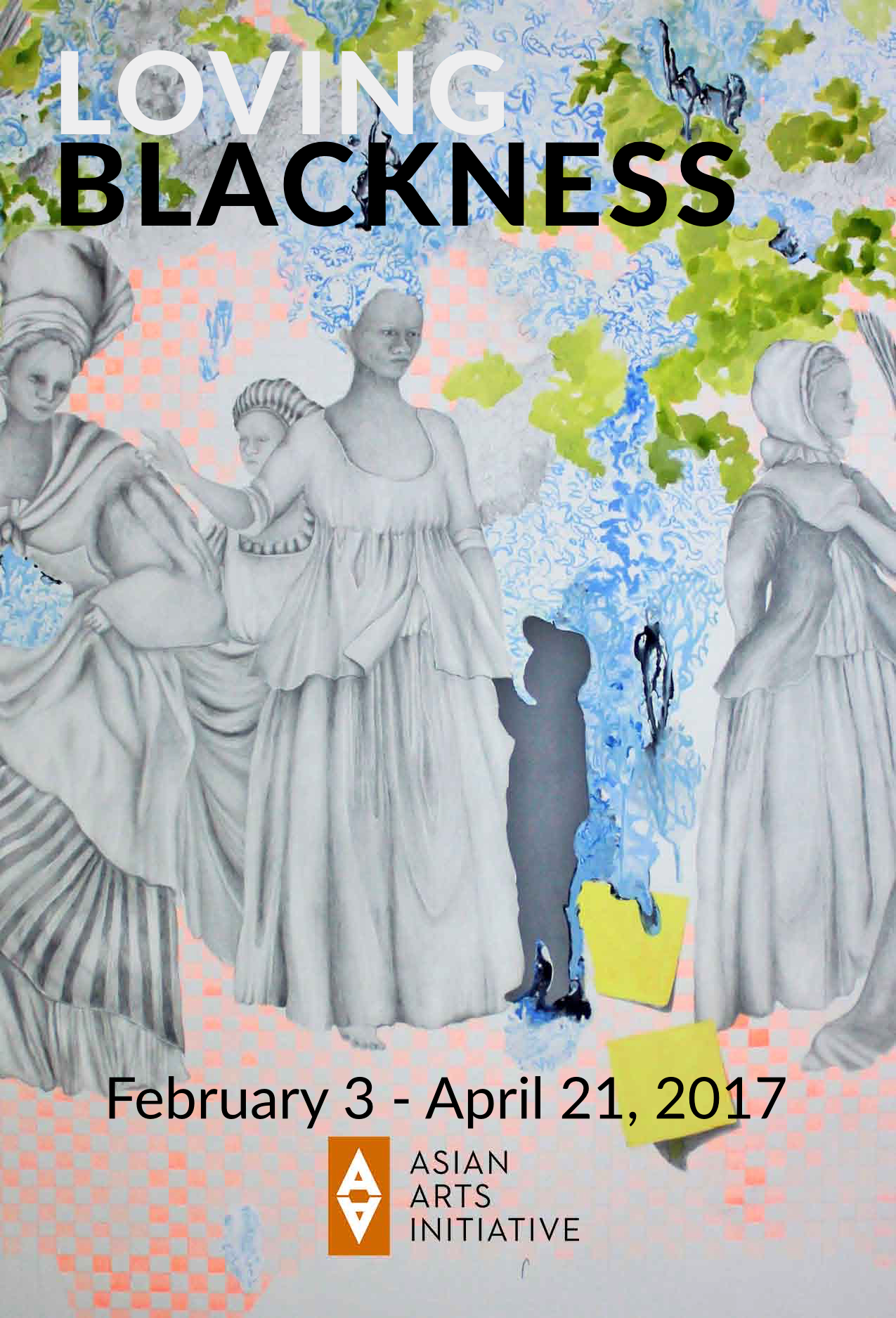 Loving Blackness
Mequitta Ahuja, Elia Alba, Tomie Arai, Indrani Ashe, Sonia E. Barrett & Shannon Lewis, Kamal Badhey, Alexis Callender, Emily Chow Bluck & Aletheia Shin, Priyanka Dasgupta & Chad Marshall, Colette Fu, Geeta Gandbhir, Amanda Kemp, Leon Sun, Francis Wong & Michael Jamanis, Tracy Keza/Studio Revolt, Sarah Khan, Shaun Leonardo, Indrani Nayar-Gall, Meei Ling Ng, Tammy Nguyen, kate-hers RHEE, Dread Scott, Shahzia Sikander
Curated by Jaishri Abichandani
February 3 – April 21
Opening Reception: First Friday, February 3, 6 – 8 p.m.
Black and Asian communities have coexisted side by side across the world for centuries. Our history includes a shared experience of indentured servitude and slavery in the Caribbean islands, the co-mingling of Bengali's and Afro-Latino's in Harlem and on the streets of London that led to the Black and Asian arts movement in the eighties. It is fraught with tensions first inflamed by the horrors of colonialism and has now been transformed into a tangled web of inequities, when 3,000 Chinese supporters of Officer Liang faced off 15,000 Black Lives Matter protestors demanding justice for Akai Gurley on the streets of New York last year. This historic friction has provided opportunities for solidarity, and increasingly we are seeing Asian individuals and organizations coming out in support of Black Lives Matter while acknowledging our collective debt to the efforts of the Civil Rights Movement in gaining liberties.
Grounded in Asian Arts Initiative's own history of being founded in response to racial tensions between Black and Asian communities, and prompted by ongoing instances of systemic injustice and anti-racism organizing efforts, over 20 artists explore moments of tension and solidarity between and among our communities through painting, photography, sculpture, and video.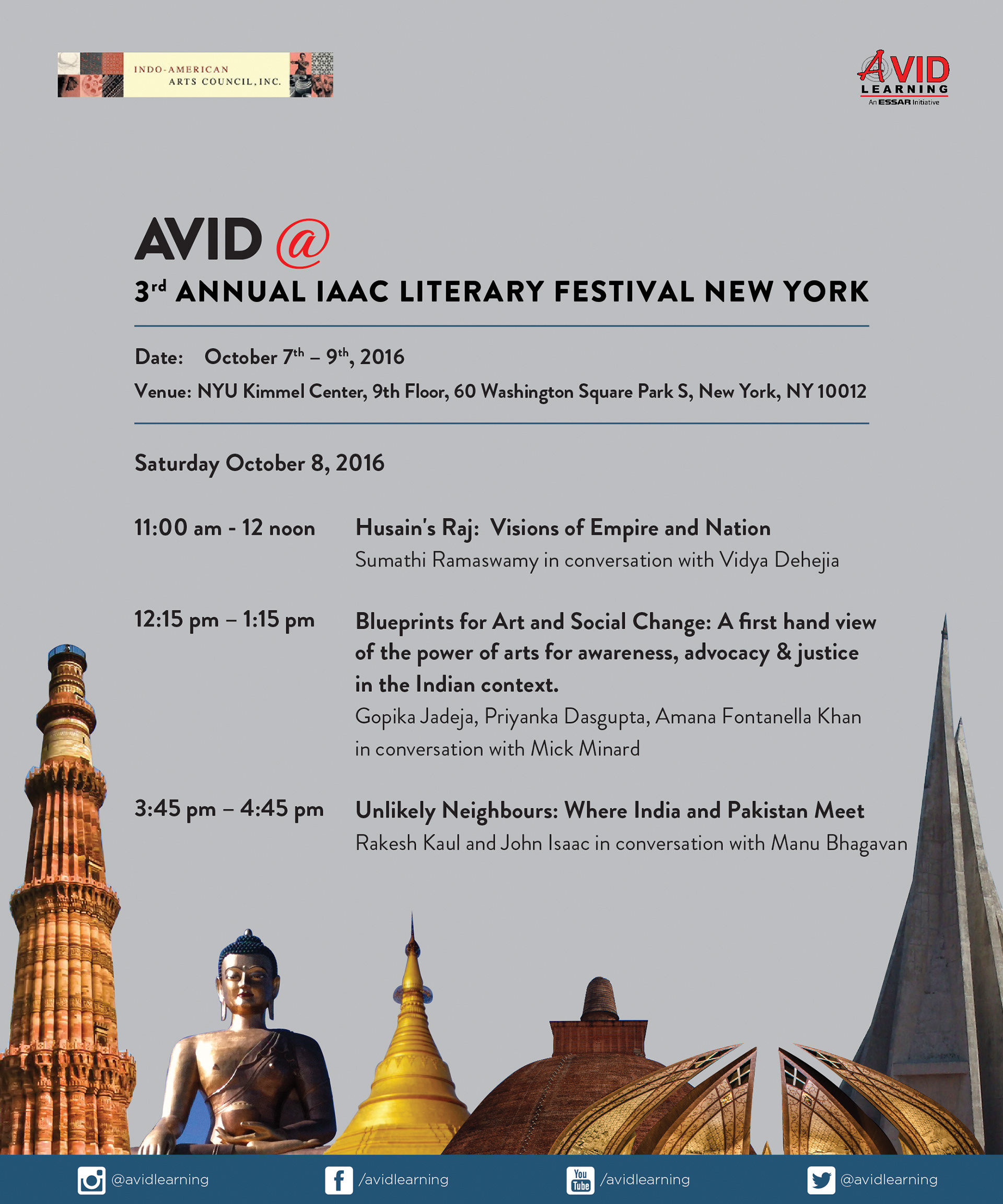 Priyanka Dasgupta will speak as part of a panel on Art and Social Change, at the IAAC Literary Festival, New York, at NYU's Kimmel Center, on October 8, 2016. If you're in the neighbourhood, stop by!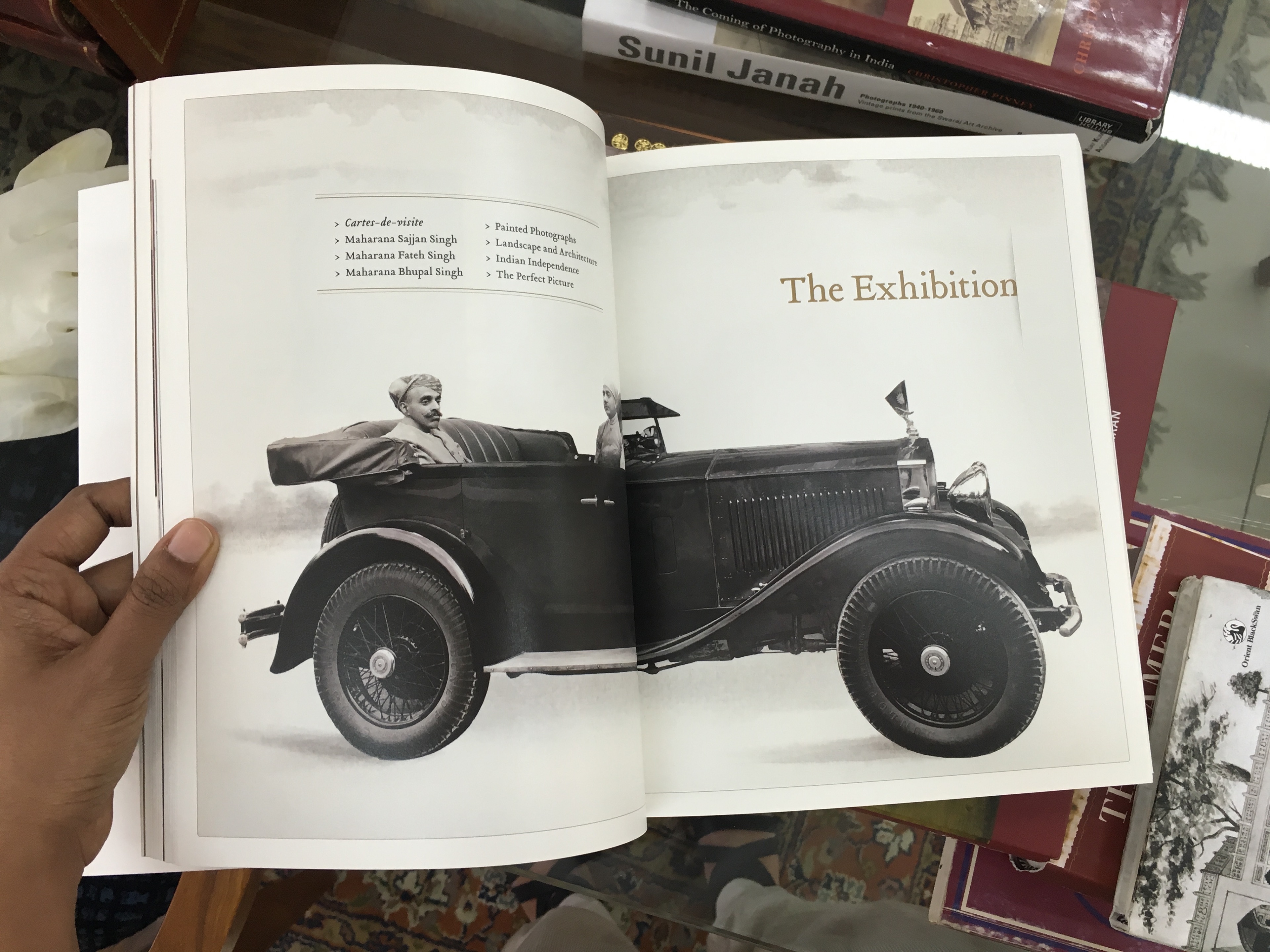 Priyanka Dasgupta was recently awarded the Connor Research and Travel Award at City College, with which she traveled to the Alkazi Foundation, the largest archive of photographic imagery from the 19th and 20th Century from the South and South East Asian region, located in New Delhi, to conduct research around image circulation and power, towards her current work.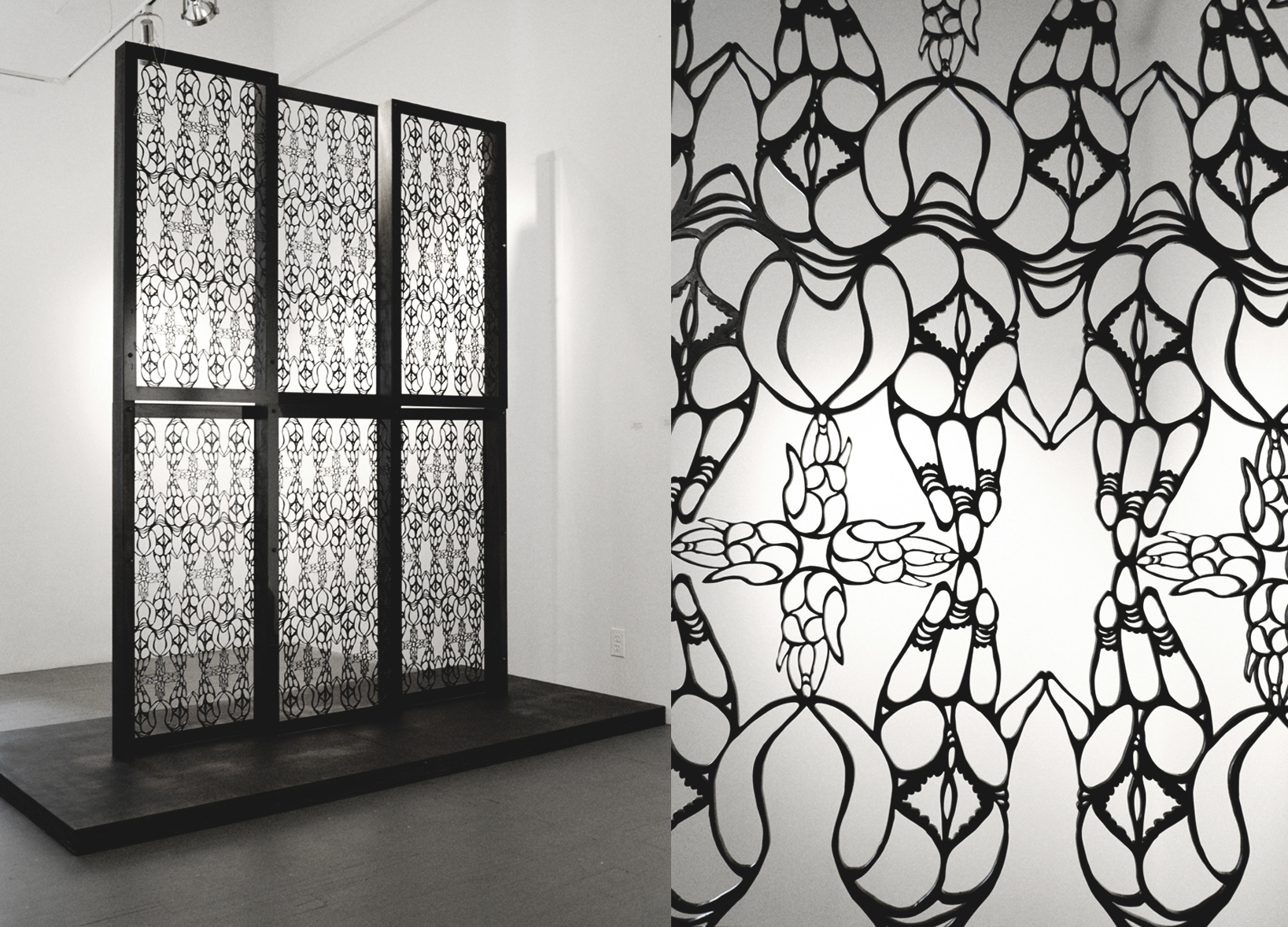 Humsa / Hamsa
,
 made in collaboration with Chad Marshall, exhibited at the India Art Fair 2016, in New Delhi, with Shrine Empire Gallery, Booth C 8, Thursday, January 28 - Sunday, January 31, 2016.